Colonial America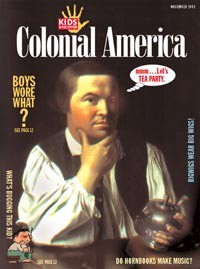 Run Slideshow
This exciting era of our history is the focus of Colonial America; for kids eager to learn about how our country was founded, and what life was like for the first immigrants, this issue will be a favorite. The scene is set with a dramatic description of the landing of the Mayflower in 1620; after that, the arrival of other colonists is covered, along with a list of turning points and key events in Colonial America, for kids. A close-up look at the lives of early Pilgrims follows, with an emphasis on how they had to build entire houses and towns from scratch and maintain their survival with hard daily work: Even kids were forced to contribute their own labor!
A section on colonial Williamsburg provides an excellent snapshot of one of the most important early settlements of Colonial America; for kids who want to learn what life was like in the main towns during this era, this should be an engrossing read. Closing out the issue are accounts of home life in this period; kids will enjoy reading about all the things colonial villagers had to build or produce themselves, and they'll get a kick out of the section on colonial school kids, who used books made out of animal skin and horn. Finally, they'll get a good grounding in how the growth of business in the colonies eventually put them into conflict with their home countries.
More Kids Discover Products
Apps by Kids Discover
Selected as Best Apps in Education by Apple © more than a dozen times, our suite of iPad ® apps offer video, 3D animations, and select audio narration.
View Our Apps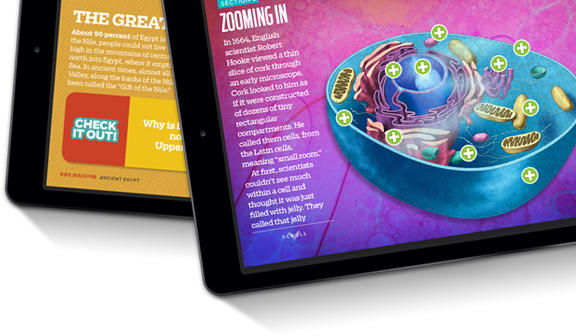 Kids Discover Online
Gain access to Kids Discover's entire library of award-winning science and social studies material on any device, at any time, for one low annual price.
Learn About Kids Discover Online