Gorillas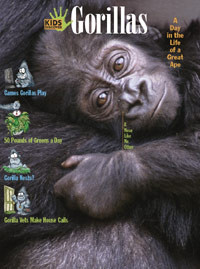 Run Slideshow
It's gorillas galore! In this fact-packed issue, these fierce-looking primates get a detailed treatment that reveals them to be peace-loving, mostly vegetarian creatures with strong family bonds. Gorillas, for kids who are afraid of big scary animals, promises to show them that this gentle giant really just prefers to eat (up to 50 pounds of vegetation a day, in fact) and nap all afternoon, rather than go on the attack. Learn the difference between Western and Eastern gorillas, where each species lives, and how their bodies are fine-tuned to their surroundings, with opposable thumbs on both hands and feet to allow them to grasp anything, and massive teeth to tear through tough vegetation.
Then get a primer on the language of gorillas. Kids will love "aping" their many actions – like hooting and thumping the ground, and their various facial expressions, all of which have special meanings. Follow a troop of gorillas through their daily schedule, observing how the silverback (male leader) makes all the decisions about food and rest, as well as settles arguments. The gorilla's close relatives, like the orangutan, chimp, and gibbon, also put in an appearance in a helpful section that illustrates just how different species of apes can be. Read about environmental and human threats to gorillas; for kids interested in animal conservation, a section on efforts to protect them will give them a sense of just how important the gorilla is to their world – and ours.
More Kids Discover Products
Apps by Kids Discover
Selected as Best Apps in Education by Apple © more than a dozen times, our suite of iPad ® apps offer video, 3D animations, and select audio narration.
View Our Apps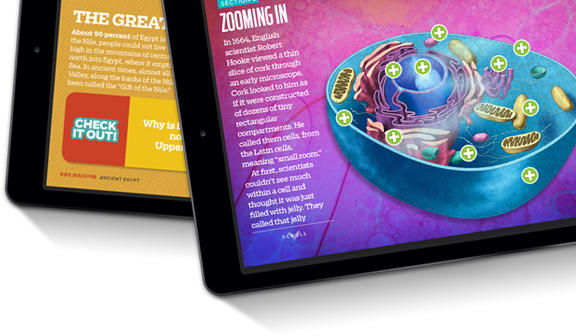 Kids Discover Online
Gain access to Kids Discover's entire library of award-winning science and social studies material on any device, at any time, for one low annual price.
Learn About Kids Discover Online