Mississippi River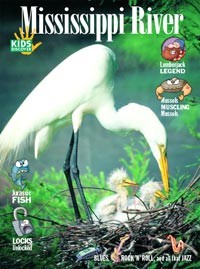 Run Slideshow
What's 2,350 miles long, only 10-20 feet wide at its source, and is home to 12 million people? Anyone who likes tales and unbelievable facts will probably know we're talking about the Mississippi River; kids sucked in by the mighty current will leave with a flotilla of fun facts like these. In this issue, the Mississippi River, for kids, is explored starting with its humble beginnings, from way up in Minnesota to its grand meeting with the Caribbean Sea in Louisiana. Along the way, kids will learn about the Ojibwa Indians — the river's earliest inhabitants– as well as the explorers and settlers of the area.
They can trace the river through its most famous towns – including Hannibal, Missouri, where Samuel Clemens (aka Mark Train) was born – and pick up some exciting information along the way about the era in which glamorous showboats and hard-working paddleboats ruled the waters of the ol' Mississippi River. For kids with more of an animal fixation, they can learn about the diverse wildlife, much of it endangered, that makes this river what it is. Other modern-day problems plague this mythical legendary watercourse, such as pollution, overharvesting of native plants, and attack by non-native animals species, but no matter what, the river keeps on rolling.
More Kids Discover Products
Apps by Kids Discover
Selected as Best Apps in Education by Apple © more than a dozen times, our suite of iPad ® apps offer video, 3D animations, and select audio narration.
View Our Apps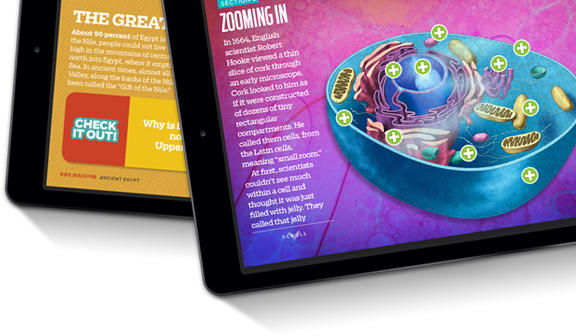 Kids Discover Online
Gain access to Kids Discover's entire library of award-winning science and social studies material on any device, at any time, for one low annual price.
Learn About Kids Discover Online