America 1492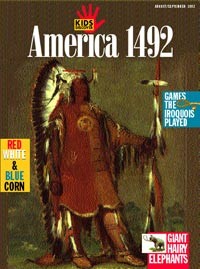 Run Slideshow
The year 1492 was undoubtedly the most pivotal one in the history of Native Americans; in this issue, kids will learn how America, in 1492, was a rugged, unspoiled land where native farmers and hunter/gatherers killed only the game they needed to survive. Buffalo – and the tribes that hunted them – were plentiful, but as Europeans seized lands, brought diseases, and killed game for sport, both the buffalo and Native Americans were nearly wiped out. Before this tragic time, life was idyllic for natives in the five different regions of America. Each of the many tribes in each region had a distinctive language and culture, but one thing they all had in common was a belief in the sacredness of the natural world.
Natural wonders abounded in America in 1492; for kids, a map of the U.S. wildlife population at that time will give them a sense of just how plentiful game was all over the continent. They will also be surprised to discover that up until Europeans brought horses over, Native Americans had to hunt huge game – like bears, elk, and mountain lions – on foot! An in-depth section on how archaeologists have uncovered most of what we know about America in 1492, for kids, will give them a glimpse of the simple yet artful objects that Native Americans created, and they will also see how some of Native America's most important traditions, like storytelling and powwows, live on today.
More Kids Discover Products
Apps by Kids Discover
Selected as Best Apps in Education by Apple © more than a dozen times, our suite of iPad ® apps offer video, 3D animations, and select audio narration.
View Our Apps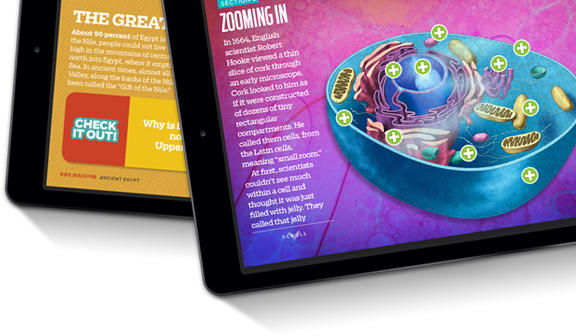 Kids Discover Online
Gain access to Kids Discover's entire library of award-winning science and social studies material on any device, at any time, for one low annual price.
Learn About Kids Discover Online