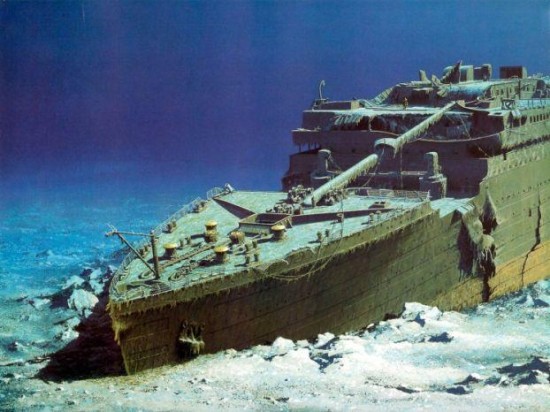 The Titanic sank on April 15, 1912, and lay undisturbed till 1985, when it was rediscovered and spawned a mini-empire of movies and reality TV shows. Despite all its new-found attention, could this historic hulk dissolve into a rust stain on the ocean floor in the next 20 years?
Scientists say that's entirely possible, thanks to seafloor currents, avid wreck explorers, and some hungry, hungry bacteria.
As the bacteria literally consume this massive boat, they leave behind nothing but orangey rust deposits that look like knobs and icicles and are called "rusticles." When the rusticles dissolve, all that's left is a fine powder, which means that the legendary luxury liner may dissolve into a rusty smudge on the cold ocean floor. Whether that will happen in 15 years or 50 is not yet clear.
Metal under water always rusts, right? That's generally true, but this mass of metal has proven tasty to 27 different strains of bacteria, including at least one that had never been identified before. The Canadian scientists who used DNA testing to ID the new bacterium named it Halomonas titanicae in honor of the boat. It's part of a salt-loving family that had never been seen as deep as the Titanic's resting place — about 2.4 miles down.
In its prime, the Titanic was made of 50,000 tons of iron. But now its two halves lie separated by 2,000 feet on the ocean floor, with debris strewn between them.
So can the wreck be preserved? So far, the best idea is to bring it up from the ocean floor to stop the rusting, but that wouldn't be easy or cheap. And many people think we should leave the boat and the watery remains of its unlucky passengers right where they are.
In the meantime, the discovery of these rust-loving bacteria may help us dispose more effectively of underwater wrecks that are less beloved than the Titanic. These bacteria could also help scientists develop corrosion-resistant structures for underwater activities such as drilling and pipelines, where we really can't afford to let rusticles form.