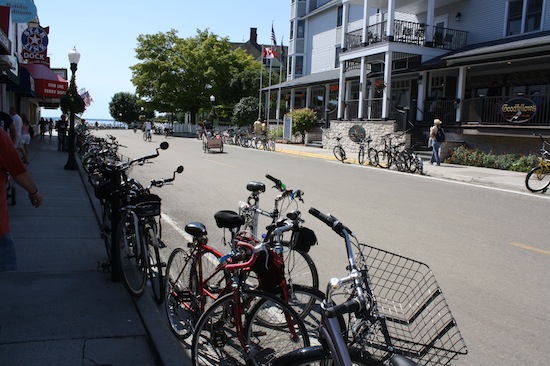 You can do a lot of things on Michigan's Mackinac Island: ride bikes, explore historic Fort Mackinac, catch a horse-drawn carriage, or eat the famous fudge made there. But one thing you can't do on this popular tourist destination in Lake Huron is drive a car — or any kind of motor vehicle — because automobiles have been banned there since 1898.
Accessible by ferry, the island is home to M-185, a narrow, eight-mile loop that is the only U.S. state highway where automobiles are not allowed. Residents and visitors get around by walking, biking, or old-fashioned horse power, and in-line skates are allowed everywhere but downtown. The island does have emergency vehicles, but they're seldom used.
Back at the end of the 19th century, the "horseless carriage" was a new novelty — a loud, smoky one that Mackinac Island residents quickly decided added nothing good to their peaceful world. The village council passed its ban on July 6, 1898. M-185 was built shortly thereafter, at the beginning of the 20th century, and it was named a state highway in 1933.
The road's first-ever auto accident happened in 2005, and it wasn't much of a collision: The fire truck dinged the door of the ambulance while emergency personnel were responding to a call.
Mackinac gets a lot of attention for its car-free stance. In 2008, USA Today named it one of the "10 Great Places to Get Your Feet Back on the Ground." But automobiles have been allowed a couple of times since 1898. In 1979, while making the movie Somewhere in Time, filmmakers were permitted to shoot the late actor Christopher Reeve driving there. And on the 100th anniversary of the auto ban, the town brought over a vintage steam-powered car for a quick spin around the island.
They may not have cars on Mackinac Island, but they do have a sense of humor.