Ancient Egypt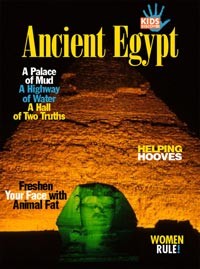 Run Slideshow
There is probably no ancient culture that is more alluring to kids than Ancient Egypt; kids just seem to be naturally attracted to the glitz and glamour of this once-powerful civilization, which left behind such breathtaking monuments and priceless treasures. In this issue, Ancient Egypt, for kids, is unraveled in all its glory, with special attention paid to Egypt's intricate religious system, which included dozens of gods and goddesses. Kids will learn that the glue that held Ancient Egypt together was its dynastic structure; their mighty kings sent their well-trained armies to claim new territories, encouraged the arts and sciences, and controlled the social order that kept their civilization flourishing for thousands of years.
They'll explore the many fields in which Egyptians left their mark – including medicine, agriculture, engineering, and, of course, architecture. All of the most incredible facts about the timeless pyramids can be found here; kids will be amazed to learn that it took 2.5 million blocks, 20 years, and 4,000 workers to build the Great Pyramid – and there are 29 others! One of the most memorable things about Ancient Egypt, for kids, has to be the bejeweled sarcophagi and well-preserved mummies they left behind, and no detail is spared in describing the artistic skill and precise embalming techniques that went into their creation.
More Kids Discover Products
Apps by Kids Discover
Selected as Best Apps in Education by Apple © more than a dozen times, our suite of iPad ® apps offer video, 3D animations, and select audio narration.
View Our Apps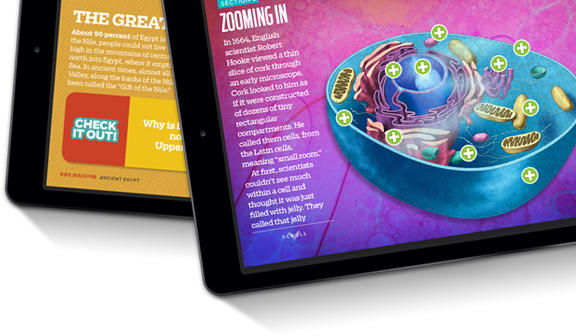 Kids Discover Online
Gain access to Kids Discover's entire library of award-winning science and social studies material on any device, at any time, for one low annual price.
Learn About Kids Discover Online