Bridges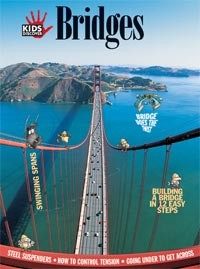 Run Slideshow
From basic footbridges made out of fallen tree trunks to the high and mighty Golden Gate, bridges can take all kinds of wonderful and strange forms – some of which don't even look like bridges! The longest, widest, and tallest bridges in the world are featured in this issue, along with some elementary technical info for kids curious about how bridges are built. First, they'll learn about the three main types – beam, arch, and suspension — and how they work, and then they'll also check out some interesting variations, such as movable, seesaw, covered, and cable-stayed bridges (including the most famous one, the Alamillo Bridge in Spain, which looks like a harp).
Following that, a comprehensive of history of bridges, for kids, highlights a 1,400-year-old Chinese one, as well as a Roman aqueduct dating from 19 B.C.. A fascinating section on how the Brooklyn Bridge was built in the late 1800s should give kids some sense of just how arduous and expensive it is to put up these massive structures. Next, kids will see how bridges have also inspired a number of hit songs, books, paintings, and films – like the famous flick Bridge on the River Kwai – which explore both the literal and symbolic meaning of bridges. For kids thinking that engineering might be for them, this issue also shows them that design and construction is not just about crunching numbers – it takes artistry, too!
More Kids Discover Products
Apps by Kids Discover
Selected as Best Apps in Education by Apple © more than a dozen times, our suite of iPad ® apps offer video, 3D animations, and select audio narration.
View Our Apps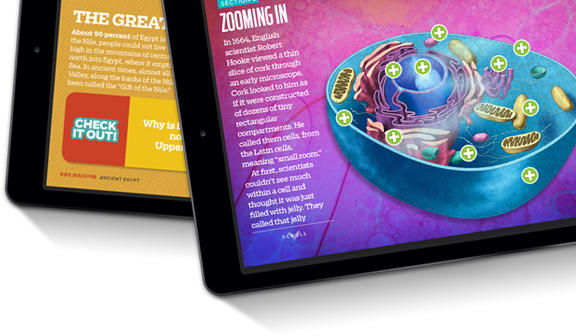 Kids Discover Online
Gain access to Kids Discover's entire library of award-winning science and social studies material on any device, at any time, for one low annual price.
Learn About Kids Discover Online