Chemistry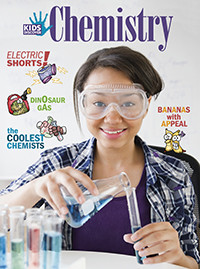 Run Slideshow
Pluck a strand of hair from your head. Is it straight? Curly? Whatever it is, it's caused by chemistry – specifically, by the position of sulfur atoms in your hair molecules. If yours are far apart, you've got curls, but if they're close together, your hair will be straight. Kids ready for more chemistry facts like these will appreciate this issue, which takes them from a simple analysis of the reactions that power life, through chemistry's everyday uses – like the key to how chewing gum is made, for one thing! A roll-call of the superstars of chemistry, for kids, helps them understand how chemists like Marie Curie and Linus Pauling are the brains behind modern must-haves like televisions and cell phones.
Chemistry – the force that drives all living things, from the smallest piece of plankton to the great blue whales – is made accessible in a section on how everything in Nature depends on chemical reactions. Getting a headache? Take an aspirin, which mimics a chemical reaction found in white willow trees. Crazy about the new guy in school? It's all about pheromones. Then explore the cutting-edge of chemistry; for kids who like detective stories, there is nothing better than an explanation of just how fingerprints are made.
More Kids Discover Products
Apps by Kids Discover
Selected as Best Apps in Education by Apple © more than a dozen times, our suite of iPad ® apps offer video, 3D animations, and select audio narration.
View Our Apps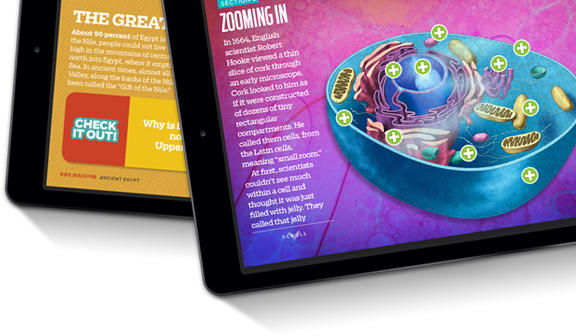 Kids Discover Online
Gain access to Kids Discover's entire library of award-winning science and social studies material on any device, at any time, for one low annual price.
Learn About Kids Discover Online