World War I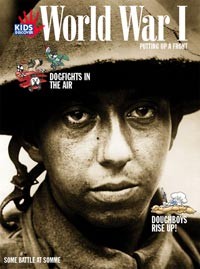 Run Slideshow
There was nothing "great" about the "Great War" – later named World War I – and kids studying this period of American history will agree after reading this issue, which describes the grim reality of soldiers' lives, as well as the lives of civilians, during wartime. The path to war is clearly charted here, along with the developments — including machine guns, poison gas, and airplanes – that made this a whole new kind of war. Trench warfare was also new, and kids will learn how the Allies dug in and hung on along the Western Front; they'll also read about the war's several other fronts – some as far away as East Africa.
The run-up to the War receives special attention, as well as the patriotic fervor that produced popular anthems like "Over There" and induced millions of women to work in war munitions factories. Also noted are the struggles of women and children on the home front during World War I; for kids, who are used to their comfortable lives, accounts of food shortages and overflowing orphanages will be eye-openers. Finally, a summary of the strained and short-lived peace that reigned after World War I, for kids, sets the stage for the eruption of World War II.
More Kids Discover Products
Apps by Kids Discover
Selected as Best Apps in Education by Apple © more than a dozen times, our suite of iPad ® apps offer video, 3D animations, and select audio narration.
View Our Apps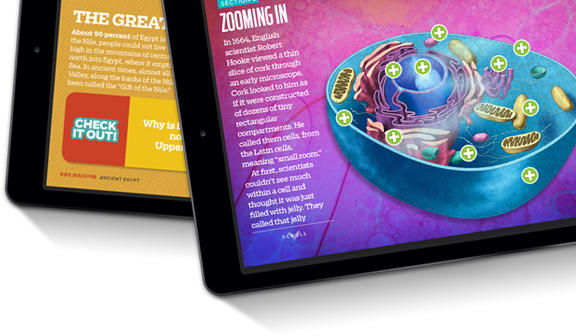 Kids Discover Online
Gain access to Kids Discover's entire library of award-winning science and social studies material on any device, at any time, for one low annual price.
Learn About Kids Discover Online